Different Thinking for Different Results
3rd Edition
Working from his experience as a strategist with the U.S. Air Force and as a consultant to some of the world's largest corporations (Exxon, IBM, Johnson & Johnson, Texaco, EDS, CSC, General Mills, Hoechst Celanese, Procter & Gamble, Kentucky Fried Chicken, Chase Manhattan Bank, R.J. Reynolds - and the US Army, Navy and Air Force), Rolf Smith has refined and detailed his seven levels for creating radical, results-driven changes in the third edition of his book.
Aurthor's observations on the new 3rd Edition
Smith packs the book with case studies and real-life examples to demonstrate how creativity, thinking different, and boldness can yield results and solutions far beyond an organization's expectations - and even produce results previously believed impossible. He has empirically derived seven distinct, increasingly challenging and significantly different Levels of Change and seven corresponding mindshifts in thinking:
At each Level of Change the book describes specific innovative approaches and techniques with step-by-step details of exactly "how to use" the creative thinking tools and processes. These tools and techniques are tied together with Smith's Thinking Expeditions as an over-arching theme that runs throughout the book. He uses the expedition metaphor to mindshift corporate groups and lead project teams through the 7 Levels of Change to breakout thinking and breakthrough results. It clearly works.
Learning to be creative with big, bold, outside-the-box thinking is the key to bringing about constructive change, and Smith explains how in this "must have, must read" book -- a real Fieldguide for anyone who is struggling with leading change, moving into the unknown, and trying to make things happen.
At the end of each chapter, Smith focuses on personal change through a process of mentally self-incorporating as an innovator, and integrates all 7 Levels into Me, Inc.® as step-by-step personal changes.
NOTE: The 7 Levels of Change has been adopted as the main textbook in Innovation & Creativity classes at a number of colleges and universities, including Disney University's College Intern Program.
You may order a copy of the new (2011) 3rd Edition Reprint personally inscribed and autographed by Rolf Smith, postage paid (USPS), either through PayPal (account under basecamp@thinking-expedition.com, or directly through the School for Innovators by mailing a check or money order for $18.45 to:
The School for Innovators
ATTN: 7 Levels of Change
907 Alamo Road - Alamo Springs
Fredericksburg, Texas 78624
To order larger quantities of the book, personally inscribed and autographed for teams or groups, please e-mail us with specifics.
The 7 Levels of Change is illustrated with 115 copies of PPT slides from a set that Smith uses as the baseline for his presentations and workshops. A basic set or a full Power Point version are available for purchase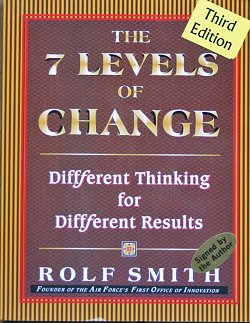 From Borders Books: About the The 7 Levels of Change: Different Thinking for Different Results
Dedicated to the unconventional thinkers, to those who dare to think different. Change is risky and perhaps even scary, but inevitable especially during these uncertain times. Different results require not just doing something different but thinking different about thinking different. Innovator Rolf Smith identifies the 7 Levels of Change and each involves "doing" and "moving your thinking into action to drive change." Level 1 starts by "Doing the right things," ending at Level 7 by "Doing things that can't be done."
In this Third Edition of 7 Levels of Change, Smith shares the strategies behind the thinking expeditions he has led many of the world's largest corporations on so that they can experience new energy, commitment, and self-confidence at any level and within every sector of their organizations during these most trying times. Complete with 8 Mindmaps for visual learners, each designed to capture ideas in chunks and make them easy to see. Mindmaps make it possible to use your whole brain-both the creative and analytical sides-by freeing you from linear thinking.
Author's CV: Known as "Colonel Innovation," Rolf Smith retired from the United States Air Force in 1987 after founding the first military Office of Innovation. Through his company, the Office of Strategic Innovation, Inc., he has led executives of the world's leading companies on "Thinking Expeditions" to learn how to innovate and manage change. He lives in Fredericksburg with his wife, has 6 adult children, and is a frequent speaker and guest at business forums of all sorts throughout the world.
This book is a field-guide for innovators, a hand-book for thinking different, for doing different, and for guiding others in thinking different to get different results. There are tools and mind maps for the visual learner to make positive change happen. It is about effecting continuous improvement and innovation both in your personal and business life. The book frees you from linear thinking and opens a world of possibilities. It has been used for some of the world's largest corporations, for instance, Texaco, Royal Bank of Canada, IBM, Exxon, General Mills both for corporate thinking expeditions and individual study. The reader will experience new energy, commitment, and self-confidence at any level. While the concept is presented in seven different levels, the reader can wade in at Level 1, move immediately to Level 3 or jump to Level 7 as they will.
PRAISE FOR THINKING EXPEDITIONS AND THE 7 LEVELS OF CHANGE:
"
Seven Insights into Innovation. Rolf Smith's first edition was a good, original primer on the subject of change. In his second edition, he has managed to take the basic theme and turn it into a significant work that should become essential reading for anyone who is interested in or involved with innovation.

Easy to read and original. If you are the sort of person who can do this, please follow his advice and jump around the book from one shiny little jewel to another. Even try reading the chapters from the back to the front. In this way you can experience the insights into common sense and the unknown in just the same manner that Smith and his contributors cobbled the ideas together.

Definitely recommended for those who are interested in a diffferent approach to how change and innovation affects our lives - and vice-versa."

Synchrodipity
Houston, Texas
"
Brilliant and engaging, a 'field guide' for Change Agents! Smith's outstanding book is based on his considerable experience as a 'change agent' and innovator. It is a 'how to' book for people, corporations or organizations who are facing challenges they don't know how to deal with. It is a book about RESULTS."

Captain RJ Vernon, US Navy
Dean, Defense Systems
Management College
"
A Great Practitioner's Guide to Innovation and Thinking. This book is one of the best I've read about how to change the way you think and do work in the business world. It triggers ideas about how to capture and develop ideas for commercial value, and it gives you a framework for actually "doing something different."

Tom Wojcik
Hoechst Celanese Corporation
"
Exceptional guide for business leaders to facilitate CHANGE. The toughest things to change in any business are your people and their processes. …Rolf Smith has examined the necessary steps to lead every member of your organization, regardless of style or personality, through the enormous, necessary changes required of all successful businesses. …I highly recommend this book and look forward to any additional future books by this author...it's graduated from our bookshelf to our desktop."

Barbara Blackwell
San Diego, CA.
"
If your goal is Out-Of-The-Box results, Read This Book! Rolf Smith, this book, and an 8-day Thinking Expedition (The School for Innovators) led by Rolf in the mountains surrounding Estes Park, Colorado (October 1998) has changed my life and put me on the path to personal and professional growth and accomplishment."

Ronald Koenig
Director of Creativity and the Arts
Northwood University, Midland, MI.